Winner of the FETA Training and Development Award 2022
It is with gratitude and pride that Raffe Hotels and Resorts celebrates receiving the Fiji Excellence in Tourism Award for Training and Development 2022.
This category recognizes tourism organizations that have demonstrated a commitment to improving customer services and experiences through employee training & development. This includes a robust Training Needs Analysis, aligned training plan and consideration of the Business KPI's and establishing ROI's.
"While this award is appreciated as the collective effort of the leadership teams at Raffe Hotels and Resorts, it must be recognized that our Group Manager Learning, Development and Quality – Altaab Khan's individual passion and absolute commitment to the learning and development of our people is the motivating factor in our team's success", acknowledges CEO, Lee Pearce.
A family-owned business operating in Fiji for over 50 years, Raffe Hotel & Resorts is passionate about "Our People". "Through a selective recruitment framework, we employ those who are aligned with the company values and support them with the opportunity to learn, develop and thrive in their roles every day in our business", states recipient Altaab Khan.
Raffe Hotels and Resorts supports a dedicated Learning, Capability and Quality Team. With a focus on people development and succession pathways. This philosophy is executed across all levels of the company. Where the success of our guest's experience is a measure of the investment in our Staff.
As the inaugural recipient of this prestigious award, we wish to extend a warm congratulations to all nominees and recipients of the 2022 Fiji Excellence in Tourism Awards. With a special shout out to fellow finalists, Sofitel Resort & Spa and Tanoa Hotel Group, for their commitment and investment in Fiji's greatest asset – it's people.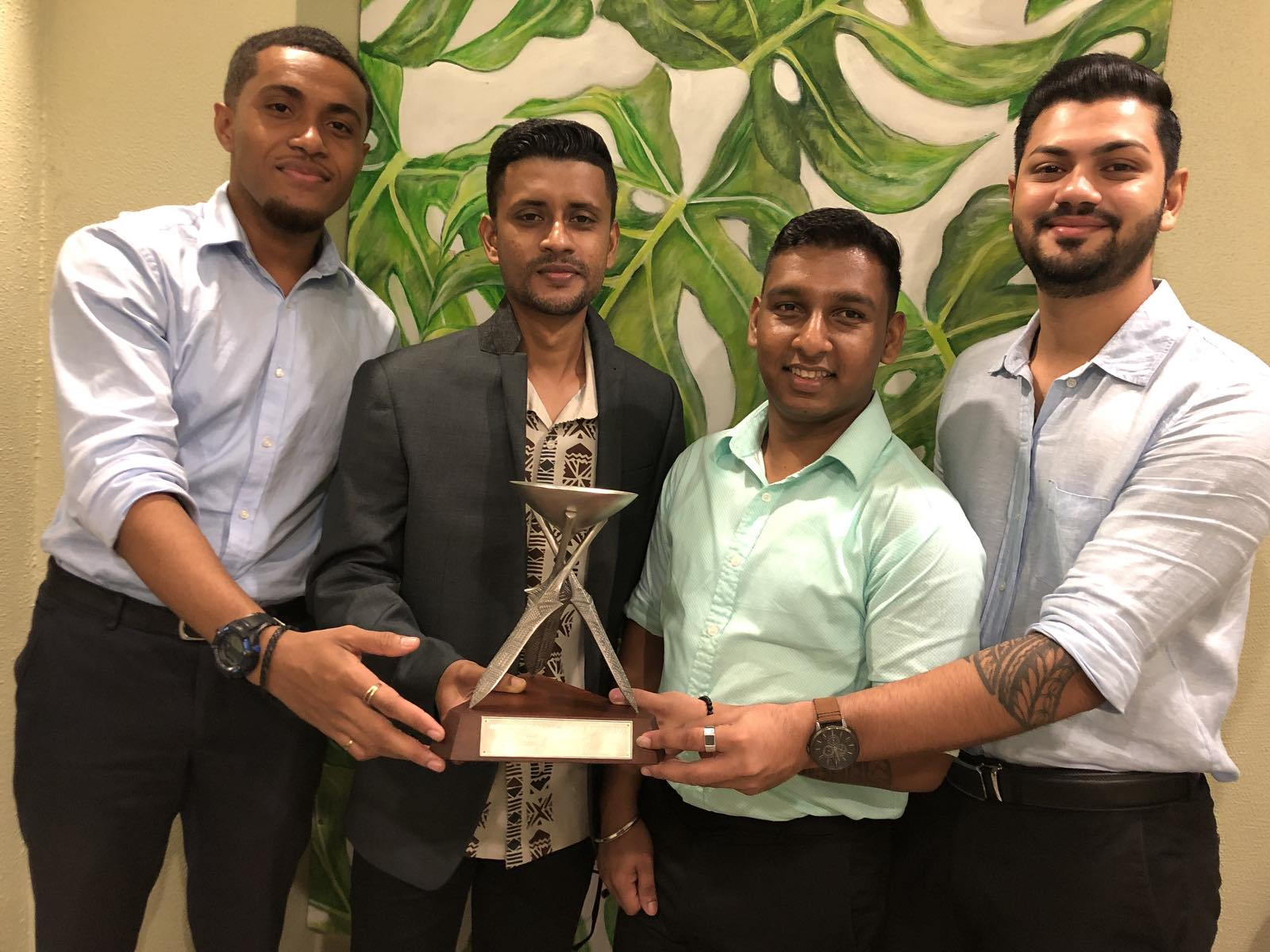 A very warm Bula Vinaka to all our past guests, as well as those who are dreaming of a visit in the near future.
Over the past few months, Fiji has worked hard to manage its own Covid-19 outbreak and has done exceptionally well to navigate this challenge.
The situation as we head toward the end of September 2021 is becoming increasingly optimistic.
Fiji has achieved a very high vaccination rate and is now well ahead of many other Pacific countries in getting to the minimum target of 80% vaccinated.
We remain confident in the Fiji Government's plan to re-open our international borders before the end of 2021!
The Raffe Hotels & Resorts teams at all our properties are excited to be talking about our re-opening, and they are working hard to ensure that each property will be presented fresh, clean and rejuvenated.
With green gardens, spacious Bures on tropical islands, sparkling pools and lots of fresh air and open spaces, a Raffe Hotels and Resorts property is your natural choice for a safe and relaxing holiday!
We can't wait to see you soon!
Bradley Robinson
Chief Executive Officer
Raffe Hotels & Resorts
Health & Hygiene upgrades at Raffe Hotels & Resorts
All over the world, Hotels & Resorts are re-inventing how we will do business when holidays and travel begin to return to normal.
Central to this is a significant focus how we can better safeguard the health and safety of our guests and staff.
At Raffe Hotels & Resorts, all of our properties are fully accredited under the Fiji Government's Care Fiji Commitment.
We have also implemented our Savasava Hygiene Promise that features a range of upgrades and improvements to many aspects of our daily operations.
Although our properties will still feature the same warmth and Bula spirit that we are famous for, you will notice some changes and improvements when you next visit.
Check-In will be a quicker process as we move toward developing pre-arrival and self-check-in options to reduce the time needed to fill out paperwork. In addition to the bright and breezy arrivals area at each property, we have also implementing some layout changes so that physical distancing will always be easy to achieve.
Housekeeping teams are being provided with enhanced cleaning procedures for all rooms, bures and guest facilities. All areas now undergo a "twice cleaned" process that includes a sanitisation stage using the latest technology in Electrostatic Sprayers.
Restaurants now have reduced seating to make physical distancing easy to achieve. Although we will strive to keep things casual and stick to "island time", we may need to ask you to book a time slot during peak periods.
Buffets will not be the same. Many guests still enjoy the variety and value that a buffet breakfast or dinner can offer. Where required we will be offering a similar experience. A buffet-type display offering a range of options will be prepared, and guests can select what they want and be served by staff who will be at each station.
Pools will continue to be monitored by our pool attendants however will be checked twice as often throughout the day. We are also introducing automated chlorine monitoring and dispensing systems to the pools that don't already have these installed.
Activities staff will be assisting us in helping you maintain physical distancing. All organised activities will have limited numbers and wherever possible will be held outdoors. Our team are currently developing more environmental and wellness-based activities to keep you interested, informed and healthy!
Raffe Hotels and Resorts is proud to announce that Plantation Island Resort, Lomani Island Resort and Fiji Gateway Hotel have started recycling 100% of the plastic bottles consumed at their respective property from 1 October 2019.
All three Raffe Hotels & Resorts properties are working with local partners Mission Pacific and Pleass Global Limited to ensure that all plastic bottles are sorted at each Hotel/Resort and sent to the respective recycling facility to begin the recycling process.
Mission Pacific recycles Fiji Water and Coca Cola Amatil bottles at their Lautoka facility, sending their crushed PET bottles overseas to be purchased by suppliers who use this recycled PET for polyester, fabric for t-shirts, luggage, upholstery etc.
Pleass Global Limited collect the plastic bottles that they sell, Aqua Safe Water and Vaiwai Water, to be crushed and sent to a recycling facility in Australia. At this location, they will be recycled into new Aqua Safe and Vaiwai Water bottles to be re-sold in Fiji.
"We are incredibly proud to be in a position where we can say we are recycling 100% of the plastic bottles consumed at our Hotels & Resorts" states Akshay Singh, Raffe Hotels & Resorts Group Director of Sales & Marketing. "A plastic bottle takes approximately 450 years to break down, so if it reaches the ocean it can have disastrous consequences on marine life and sea birds. Following our recent ban on plastic shopping bags and plastic straws, we have now eliminated 3 out of the top 10 contributors of marine litter at our Hotels & Resorts".
For more information and/or images, please contact:
Lisa Costello
Group Sales Manager
Raffe Hotels & Resorts
P: +61 416 764 649
E: gsm@raffehotels.com
Raffe Hotels and Resorts is pleased to announce that it is partnering with global NGO, Oceanic Global, to work towards eliminating all single use plastics from the operations of Plantation Island Resort, Lomani Island Resort and Fiji Gateway Hotel.
Oceanic Global, who is the official non-profit and production partner to the United Nations for this year's World Oceans Day celebration, empowers behaviour that protects the ocean's health and raises awareness for the devastating effects of human consumption on aquatic ecosystems. Raffe Hotels & Resorts will be working towards implementing the recommendations of The Oceanic Standard (TOC), which provides guidelines for adopting sustainable operating practices that meet both business and environmental needs.
"This is Oceanic Global's first and only partnership in the South Pacific, which we are immensely proud to be a part of" states Director of Sales, Marketing & Strategic Development, Akshay Singh. "By systematically working through The Oceanic Standard and achieving each level of Oceanic Global's certification, we will transform our business practices and lead the way in mainstream tourism sustainability."
All three Raffe Hotels & Resorts properties have already been awarded Oceanic Global's "Straw Free" badge, which certifies that each property has eliminated plastic straws from their operations and replaced them with an environmentally sustainable alternative. The next goal for Raffe Hotels & Resorts is to be awarded the "Sustainability Steward" badge.
For more information and/or images, please contact:
Lisa Costello
Group Sales Manager
Raffe Hotels & Resorts
P: +61 416 764 649
E: gsm@raffehotels.com
Raffe Hotels and Resorts is pleased to announce that Lomani Island Resort and Fiji Gateway Hotel will be banning plastic shopping bags across both hotels from 1 April 2019. Lomani Island Resort is the leading 4-star adults only Resort in the Mamanuca Islands and Fiji Gateway Hotel is a 3.5-star transit hotel located directly across from Nadi International Airport.
This move follows Plantation Island Resort banning plastic shopping bags in October 2017. Like Plantation Island Resort, Lomani Island Resort will also provide each guest with a re-usable shopping bag to use during their holiday and each Lomani staff member will receive a re-usable shopping bag to use while they are working on Malolo Lailai Island.
"This is another key milestone in our goal to become a more environmentally friendly business" says Akshay Singh, Director of Sales, Marketing and Strategic Development for Raffe Hotels & Resorts. "The amount of plastic being found in our oceans is alarming and we can no longer be contributing to this global problem. We must show leadership in the community we live in and the environment we prosper under."
All three Raffe Hotels & Resorts properties also banned plastic straws on 10th October 2018, offering paper straws on request only.
For more information and/or images, please contact:
Lisa Costello
Group Sales Manager
Raffe Hotels & Resorts
P: +61 416 764 649
E: gsm@raffehotels.com